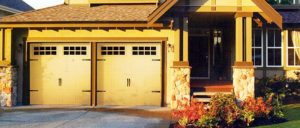 The DoorLink Grooved Panel 430 & 431 Doors are made with thick, durable steel and have a beautiful wood grain texture on the exterior of the raised panels. The face of the door is prefinished for convenience and easy care. These are a great addition to any home and come with some optional accessories and features to set your doors apart from the rest and give your home character and style. Please see below for more technical details from DoorLink regarding construction, finish, and options.
430 & 431 Standard Features
24 GAUGE METAL
Hot dipped galvanized steel construction with hemmed inside return rail provides superior strength and durability.
1.0 MIL PAINT SYSTEM
Includes .25 mil rust inhibiting primer and .75 mil exterior top coat that resists fading and chalking while providing consistent color from panel to panel, and long life.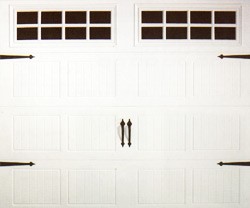 ROLLED SAFETY EDGES ON SECTION JOINTS
Eliminates sharp edges, and provides extra strength.
19 GAUGE HOT DIPPED GALVANIZED STILES
Heavy duty metal styles give strong rigid support for all hinges, rollers and operator attachment.
STILES ATTACHED WITH RIVETS
Provides superior strength when compared to common sheet metal joining methods.
TONGUE AND GROOVE MEETING RAILS
For superior strength and better sealing against wind, rain and snow.
RIGID ALUMINUM RETAINER
Provides added strength while securing replaceable u-shaped bottom weatherstrip to help keep the elements out.
431 Additional Features
R VALUE 6.85 INSULATION
Enhances your home's energy savings, makes your door operation quieter, and reduces exterior noise in your garage.
CFC FREE EXPANDED POLYSTYRENE
Environmentally friendly insulation that will not degrade with vibration or time.
HIGH IMPACT PLASTIC BACK COVER
Protects the insulation, and enhances the interior look of your garage door.
Residential Door Colors

*Example – Color may vary from actual product.
Available Windows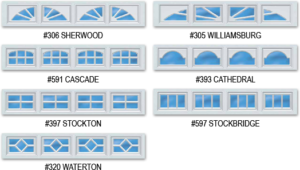 Sizes Available

Construction & Paint Layers

CONTACT US TODAY!
Main Phone (314) 484-3667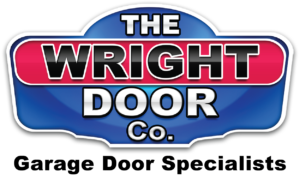 Or, In Illinois (618) 698-8058 | In Missouri (636) 293-3007
By Email
 Location
Greater St. Louis Metro Area