Customer satisfaction is our first priority. If customers aren't happy with our work and products, our services are worthless. As it is, we have an incredible team of service technicians and installers, headed up by small family business owners who understand the investment you are making when buying a product or paying for a service. We only use reputable, time-tested products that are made in the USA, providing jobs to Americans and helping our economy. We know that you place an enormous amount of trust in us, and we are committed to making good on our promises.
The technical nature of garage door repair makes it easy for companies to overcharge or handle repairs dishonestly, leaving homeowners and businesses overcharged and disappointed. We don't use sales gimmicks, and we don't overcharge or make up reasons for you to open your wallet. We offer outstanding repair and installation service, top of the line products, fair second opinion services, and a pricing guarantee. We rely on our integrity and good name. We promise to be transparent and to deliver dependable, high-quality services and products every single time.
Read what our customers have to say!
Outside Reviews
Customer Testimonials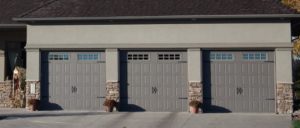 I was very happy with their work. Punctual, polite, door was of great quality.
Vickie Thoroughman
When I called, the company offered to come immediately on Friday evening. Since that wasn't necessary, we agreed that they would come Monday around 5. I asked them for a price for a garage door opener. Since the price was reasonable, I asked them to also install that. They called at 4 Monday to let me know they were on the way. They arrived at about 5. Work was professionally done. When they were finished, they explained the features to me.
I was very pleased with the company, and I love my new garage door opener. The door hadn't worked well for some time. Now it glides quietly, opening and closing whenever I ask it to. The service was prompt. Price was as quoted over the phone. No charge for the quote. (Not my experience with other companies.) The installers were courteous and friendly. I would certainly recommend this company.
Janice H. Godfrey, IL.
The technician arrived on time, ready to work, and completed the job independently which allowed me to complete the work I was doing in the house. He let me know when he was finished and ready to leave. All together the perfect kind of service call you want to have!
Melanie R. St. Louis, MO.
My garage door hinges kept disconnecting and the door didn't always open. He came promptly and fixed the problem and did exactly what he advertised and more. I was extremely impressed with everything…I would definitely rate him A.
Sanford K. Chesterfield, MO.
Excellent service! Came out the same day I called for an appt. My garage door works so much better-wish I had called them years ago. Great value and very friendly. Definitely recommend.
Marcia M. St. Louis, MO.
Refurbered two garage doors bearings oil etc. gentlemen who came over was amazing fast and accurate. Use them! Awesome!!!
Paul T. St. Charles, MO.
I am TOTALLY pleased with what happened. I have an older home with an older garage door. Yesterday my garage door would open but when I tried to close it, it would reach the bottom but then open up again. It took 3 times for the garage door to finally stay shut. Today the same thing happened. It closed after 2 times up and down. I called the garage door company who has a sticker inside my garage door, but all he seemed interested in was giving me a price, which included a service call charge, and setting up an appointment, without even asking me any questions what the problem was. I quickly ruled him out even though that is probably the company who worked on the garage door before I became owner of my home.
I then went on Angie's List. What a Godsend this service is. I read through some of the member comments from various companies and decided to give The Wright Door a call, based on so many good reviews. Right away Dan answered the phone, was very pleasant, asked me questions, gave me recommendations based on what I said, and when all was said and done, I had him come out to look at my garage door. He said there would be no service charge, unlike the other company. He arrived a couple hours later and fixed my problem in less than 5 minutes. He lubricated all around the area the ball bearings, joints, and area the garage door goes up and down on. Also, once he was finished the garage door opened and closed very quietly since it was lubricated. That was an added bonus as far as I was concerned, as I was used to a very loud door opening. He told me it would run very smoothly and quietly when he was done and he was exactly right. He didn't even charge me.
Trust me, this is a wonderful company. Not because he didn't charge me which was nice in of itself, but his professionalism, his prompt service taking my call and coming right away, his diagnosis and fixing the problem, and just overall attitude. Dan is the man!! I will definitely use them for all my future garage door needs. I urge all members to use them as well. You will be completely satisfied.
Gary M. St. Louis, MO.
I made an appointment for them to come on December 10. The workman called me when he was on the way that morning, and he got to work doing the job. It didn't take him long. I initially bought the garage door opener system in 1995 and had had it serviced a couple times a few years ago. Before the man arrived in December, the door went clankety clankety clank when it opened and closed. Since the door has been serviced, it makes a quiet humming noise instead. I am pleased with the work that was done and will call this company the next time I want my door serviced.
John H. Belleville, IL.
On time and was very friendly. Definitely knew what to do to fix the garage door. Very reasonably priced. Just 30 minutes and the garage door worked like new.
Cathy C. Arnold, MO.
Quick response. I left a message and he returned my call within the hour. It was later in the evening, but Tom accommodated my need. Thank you, Tom, you are accommodating and professional.
Cheryl W. Trenton, IL.
Taught me how to reset garage door when it gets locked.
Anonymous
I will definitely call The Wright Door when I need to have repair work or upgrading completed on my garage door. The Wright Door came out to my house within 45 minutes of my phone call requesting service. When it was revealed that a real repair was not needed, that we had been missing an error we were making in the use of the door, they taught me the correct way to manage this. Furthermore, the serviceman was cordial and friendly, taking the time to teach me about the door and oil the rollers. Will definitely use The Wright Door when we have a repair.
Kristin B. St. Louis, MO.
Called at 1 o'clock in the afternoon and they were out by 3:45. Our double garage door only had one spring and it had broken. He advised us to install 2 springs to put less strain on our opener. The job was completed quickly and the door is back in business. I would use this company again.
Thomas R.
The technician, Dan, was extremely courteous as well as efficient. He eliminated most of the noise the door made when operating. Offered to do little things which weren't required as part of the deal i.e. Replace light bulbs and checked one our openers which we thought wasn't working as it should. We couldn't have been any more pleased with the service we received.
Wayne M.
After hearing my garage door moan and groan for a couple of weeks, I decided to look for someone to remedy the ailment. I called 3 Garage Door companies and was told by 2 that "You need a new garage door" and the other that it could be fixed, with their price close to that of the new door. I was at the St. Charles Homeshow on Friday and passed by Angie's list table and next door was, The Wright Door Co.'s booth, I gave them my problem and was told, "estimates are free" and right on the table was a sign that said Homeshow Special Preventive Maintenance and 10 rollers $85.00.
Tom explained every question that I asked and it was so logical and easy to understand, he then told me that the steel rollers were more than likely broken and the nylon rollers would remedy the problem. He was here on Saturday and did everything that he said would be done when he had completed the work he had me sign a Preventive Maintenance sheet that explained all of the work to the door and electric opener and presented me with a copy. All I can say is WOW, Thank You Wright Door and to Tom a special Thank You.
Nickolas S.
Remove broken spring at top of door and replaced 2 new ones – Replaced stems and rollers on both sides of door for a total of 8 and lower door. I needed to extend life of door. I called around 12:30 – Serviceman called about 10 minutes later to confirm location and to report he'll be here after he completed the job he was working on. He arrived approximately about 30 minutes later. I was impressed.
Delores D.
Dan, The service tech was very professional. He explained everything as he was doing the work. Door works better than ever.
Virgil S.
I called the company to schedule the work to be done. When the gentleman answered the phone he asked when I would like to have it done. I gave a date and time to them and they worked around my schedule!! Dan was the gentleman that came out to my home and did the repair. He was very very helpful in any questions that I had and was very complete about the job. They were only there about 45 mins. and I was able to go right back to work! I will definitely use and recommend this company in the future!!!
Jason B.
Take apart garage door springs and shaft and replaced broken springs onto new shaft with new springs. Lube door & check all garage door functions.
I looked up companies in the Granite City area phone book to check prices. I called @ 1:30 pm and truck was at my house @ 3:30 pm. Had all the necessary parts to fix them and was done by 5:00 pm. Very happy with service/price.
Tim C.
Tom was very professional – he called before he arrived and was very efficient in replacing the rollers and adjusting the springs, etc. He took extra time to eliminate some noise caused by the chain drive opener and offered suggestions for a replacement if/when my current opener bites the dust. Overall I was very pleased with the service provided and would definitely use The Wright Door again.
Chris S.
We called The Wright Door because one of two garage door openers was not working. The other made a terrible grinding noise. We knew they were very old openers here when we purchased this house and had trouble with them in the past, but did not know if service or replacement was better. Tom was very prompt in arriving the next day, was very friendly, personable and professional. He took a look at both and explained exactly why they had the problems they did. He did recommend service until new belt driven openers could be ordered. Turned out his partner had two openers on his truck and came right away to help remove the old ones and install the new ones. Installed a keypad on the outside which opens both doors with different codes. Tom and Dan were excellent to work with and we trusted their opinions.
Tom and Dan were prompt, friendly and professional and finished the job quickly. They gave us thorough operating instructions. We love the new, extremely quiet, lifetime guarantee openers.
Marie L.
He completed all the tune-up requirements, which included new rollers, and replaced a bad fraying cable (adding new cables on each side) and straightened out tracks that were slightly maladjusted from wear and tear, and he found some missing bolts that he replaced and tightened any others that were loose. The extra work he completed for parts and labor was only $50 and well worth it. He tested and re-tested the door for quality performance before deciding that the work was successfully completed, and he was both friendly and professional during the entire one hour he spent on the job. I'd highly recommend this company and will use them in the future.
When a company performs this well the only thing one can say is they do great work at very reasonable prices. They are friendly and professional, more than willing to answer any question or concerns one might have. After all the bad experience I've had over the last couple years due to storm damage, I've encountered a lot of bad contractors that made my life miserable, so, in contrast, this company stands out as a shining star for quality customer service at a reasonable price.
J. Mang
They walked me through how to make adjustments to the sensor myself instead of having to pay them to come do it. Very pleased that it was something that I was able to fix by myself for free. Will definitely use them in the future when the problem is something I can't handle myself. There aren't a ton of businesses that give you free repair advise so I thought that was excellent on their part.
Mark S.
The 30-year-old garage door opener stopped working with my car inside the garage, and I could not open the door manually. After a little research on Angie's List, I called The Wright Door. Dan told me they give people who are stuck top priority and that he could be there in 20 minutes. And he was! Amazing. He diagnosed the broken spring and when I told him I would probably replace the whole door in the not-too-distant future, he made sure I knew my options–get the door working manually for now, or pay for new springs now and then again when the door is replaced. (The springs don't transfer.) There was no sales pressure at all. I opted for new springs now, and the whole job took about 40 minutes. Truly outstanding service.
Adam M.
I had an issue with my garage door not wanting to close and I figured it had to be something with the sensor. He talked me through how to adjust it myself to make it work and sure enough it worked.
John H.
Before and After Photos: Garage Door Repair and Remodels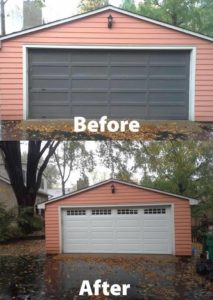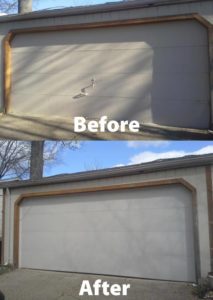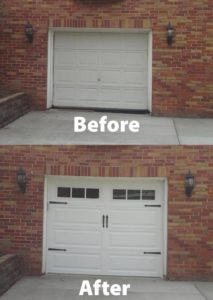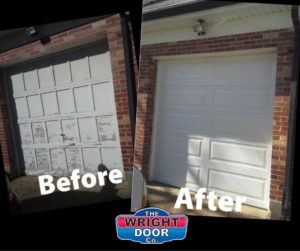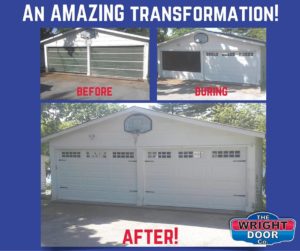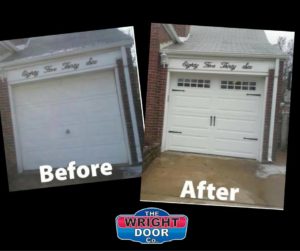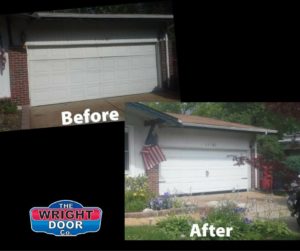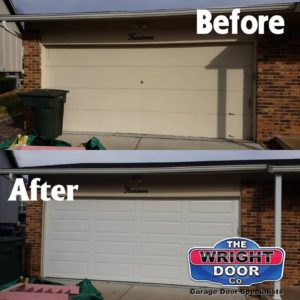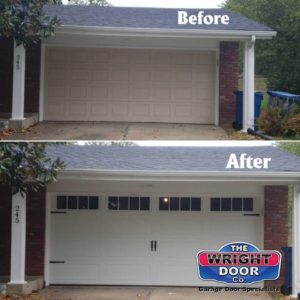 CONTACT US TODAY!
Main Phone (314) 484-3667
Or, In Illinois (618) 698-8058 | In Missouri (636) 293-3007
By Email
 Location
Greater St. Louis Metro Area