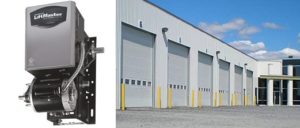 INDUSTRIAL-DUTY JACKSHAFT OPERATOR
The LiftMaster Model J Special commercial garage door opener is an industrial-strength garage operator with all the torque and horsepower needed for your commercial doors. We fully back the integrity, quality, and power of Liftmaster commercial openers. This is a company that is based in the USA, providing jobs for Americans, and unmatched products that withstand continuous heavy use without affecting the life of the product. Industrial garage doors are heavy and large, and they are absolutely crucial to the functional operation of your commercial structures. You need a strong, reliable garage door opener to do the job, and we recommend the Model J Special.
This opener comes with standard and optional features that make it a great choice.
The motor can run continuously with high torque, providing a ton of power and force to lift and close your garage doors over and over again without losing steam. There are options for horsepower, depending on what you need for your products to run smoothly. There are also choices available for wiring, controls, and more, so you can have a great product installed that will work for your needs. Please see info below for technical specifications from the manufacturer.
Standard Features
MOTOR
Continuous-duty high-starting torque motor with instant reverse and overload protection.
Available in 1/3, 1/2, 3/4 and 1 HP
Single or three-phase.
Capacitor start on single-phase.
Removable without affecting limit switch settings.
DRIVE REDUCTION
First-stage heavy-duty 5L V-belt
Second and third stages #48 chain, #50 drive chain.
EMERGENCY MANUAL OPERATION
Model J provides easy emergency manual operation using an electrically interlocked floor level disconnect.
WIRING TYPE (L3)
C2 (factory default), B2, D1, and E2 wiring types are available.
Failsafe (T, TS, and FSTS) wiring can be selected with the addition of a CPS-L, CPS-LN4 or failsafe edge and CPS3 card.
RADIO RECEIVER & EXTERNAL RADIO CONTROL TERMINAL
315MHz radio receiver included as standard on Logic 3.0. Accepts up to 23 Security+.
CONTACT US TODAY!
Main Phone (314) 484-3667
Or, In Illinois (618) 698-8058 | In Missouri (636) 293-3007
By Email
 Location
Greater St. Louis Metro Area