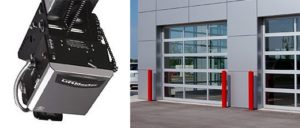 INDUSTRIAL-DUTY TROLLEY OPERATOR FOR STANDARD-LIFT SECTIONAL DOORS
Liftmaster's Model T Premium commercial garage door opener is a top-of-the-line industrial garage operator with a lot of power. We have full confidence offering Liftmaster openers because they make a fantastic product that lasts. Industrial garage doors are huge and heavy, and you need a strong garage door opener to lift it day in and day out. One of the great features about this opener is the ability to operate manually in case of an emergency. It also comes with several options for the motor. You can choose the amount of horsepower and the number of phases, depending on the size of your doors and the needs of your business. Please see info below for technical specifications from the manufacturer.
Standard Features
MOTOR
Continuous-duty high-starting torque motor
Instant reverse and overload protection.
Available in 1/3, 1/2, 3/4 and 1 horsepower.
Single or three-phase motor.
Capacitor start on single-phase.
Remove without affecting limit switch settings.
QUICK-MOUNT HEADER BRACKET
A quick-mount header bracket makes for fast, swing-up installation.
EMERGENCY DISCONNECT
Spring-loaded disconnect for emergency manual operation.
WIRING TYPE(L3)
C2 comes as factory default on this model.
B2, D1, and E2 wiring types are available.
Option for failsafe (T, TS, and FSTS) wiring if you add a CPS-L, CPS-LN4 or failsafe edge and CPS3 card.
DRIVE REDUCTION
First-stage heavy-duty 5L V-belt.
Second-stage #41 chain.
Output on trolley #48 chain on 1/3 and 1/2 HP.
#41 chain on 3/4 and 1 HP.
BRAKE
To prevent door coasting, the heavy-duty solenoid-actuated brake is standard on all 3/4 and 1HP units.
This brake is available as an option on 1/3 and 1/2HP units.
BEARINGS
Ball bearings on output shaft.
Heavy-duty, oil-filled bushings on reduction shafts.
FRICTION CLUTCH
Adjustable friction clutch helps protect against major damage to the garage door and opener in case of door obstruction.
PUSH BUTTON STATION
Three-button station for open/close/stop functions is standard for all operators. Other control options are available.
RADIO RECEIVER & EXTERNAL RADIO CONTROL TERMINAL
315MHz radio receiver included as standard on Logic 3.0. Accepts up to 23 Security+.
CONTACT US TODAY!
Main Phone (314) 484-3667
Or, In Illinois (618) 698-8058 | In Missouri (636) 293-3007
By Email
 Location
Greater St. Louis Metro Area