The Chain Drive Garage Door Operator was the first style that was used.
Yes, the chain drive garage door operator uses a chain remarkably like what a bicycle uses. It had a motor attached to a belt and sprocket that would turn and lift the garage door and lower it down.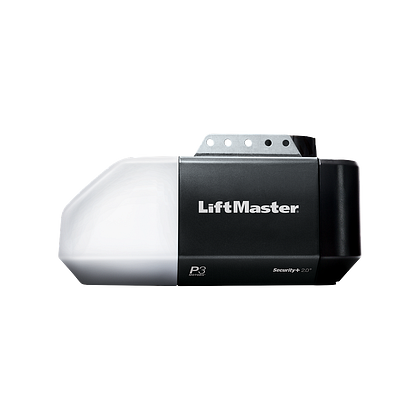 The biggest advantage of the chain drive operator is that it is tried and true. This Operator can last a lifetime with proper maintenance. The cost is relatively inexpensive and can be found it most home improvement centers.
The chain drive garage door operator is exceptionally reliable and consistent. The garage door will need to have regular maintenance. Over time the springs will lose their lifting capacity and need adjustments, if not the garage door will get "heavier".
As the garage door gets "heavier the operator will have to lift more of the weight and will pull on the sprocket assembly. After pulling on the sprocket assembly the chain will look like it has loosened and needs tightened up. Yes, you can tighten the chain there are 2 nuts that are adjusted, and it looks normal again. However, the garage door needs to be adjusted as well and if not the Gear and sprocket will need replacing. If the gear and sprocket assembly does wear out it will sound as if the unit is running and the chain is not moving. You can UNPLUG the unit and take the cover off (1/4 screws). Most of the time the nylon gear will be shredded and look like snow. It is a common repair.
Please give The Wright Door Co. a call at 314-484-3667, 636-293-3007 or 618-698-8058 if you have any Garage Door or Garage Door Operator questions. Our goal as always is to deliver Quality You Expect, Service You Deserve.